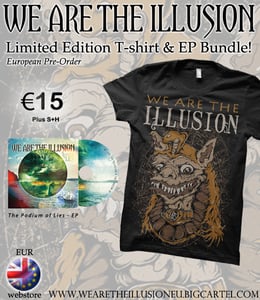 €

15.00
The Podium of Lies EP and T-Shirt Bundle!
This pre-order is for mainland Europe & United Kingdom only and pre-order is limited to 50 copies which will be delivered before general sale. Don't wait, they will go fast!
Bundle Includes:
-Full Print "Anubis" Design on Black T-shirt
-Debut EP "The Podium of Lies" Hard Copy
Pre-order will be up for a two-week minimum.
You will be notified by email upon shipping, please remember shipping to delivery time varies between country to country.